Because Single-Player Games Shouldn't Require a Constant Internet Connection
Twitter recently blew up when many fans of Middle-Earth Shadow of War learned that the game would require a constant internet connection to play. The online community hasn't been so upset since the same was announced concerning Ubisoft's For Honor. Unlike that game, however, this is not true.
Fortunately, we can confirm that Middle-Earth: Shadow of War will not require constant internet connection to play single-player. A developer from Monolith Studios confirmed as much on Discord. His statement then went to the official subreddit.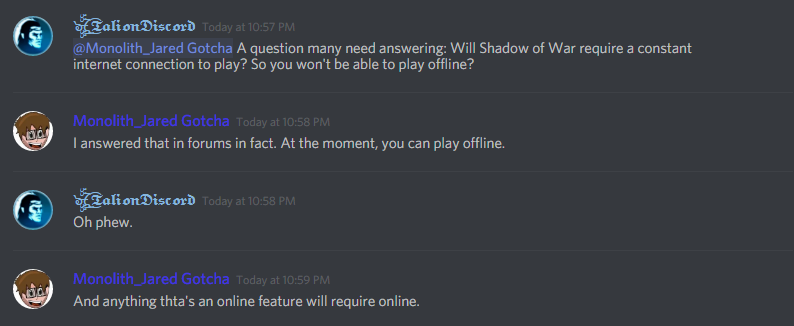 Naturally, you still need an internet connection to access many of the game's online features. There's the marketplace, newly announced modes like Social Conquest, and Vendettas. That said, an internet connection is not necessary just to play the game.
There is a lot we can expect from Middle-Earth Shadow of War. It will be one of the latest games to facilitate 4K gaming on the PS4 Pro and Xbox One X. And thus far, there have been multiple story trailers depicting the title's epic scale. The latest pertains to Shelob and her influence on Talion and the Wraith.
You can check out the 5 things we love most about the game in our related article here. Middle-Earth Shadow of War will arrive on October 10, 2017, for all platforms. Remember to check back for more updates and revelations as they come. Until then,
Happy gaming