It's about time, Sony
This isn't confirmed, by any means, but PlayStation is surveying users for a potential new feature on PSN. The feature is none other than the highly-requested user ID change.
An anonymous user forwarded an official email to PushSquare. According to the contents, PlayStation wants to know what players think about the ability to change their user ID. They're asking whether "gamers are interested in the feature or not." As many will attest, you don't need a mass survey to know the answer to that question. However, PlayStation always likes to take its userbase into consideration.
While the email is legitimate, there's no telling whether PlayStation would implement the ID change feature. All the recipients are to remain anonymous, and this was never meant to see the light of day. As PlayStation writes, they "can't be sure whether this feature will be added or not, but we can be sure your opinions on the matter will be heard."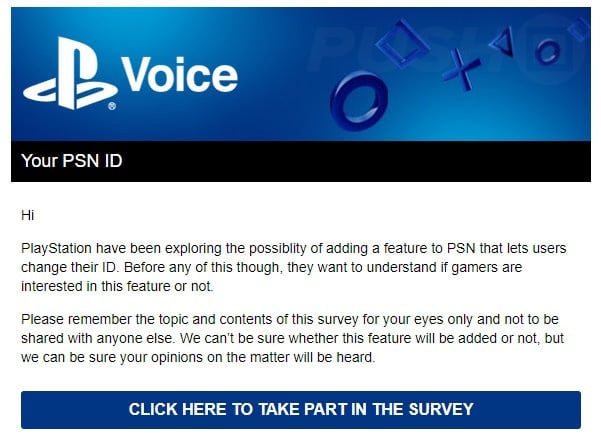 The survey further details how ID changes would work. Apparently, the first few name changes would be available at no cost, but only applicable once every six months. Afterward, there will be a charge for players who continuously change their identities. More than likely, it will be a modest charge.
Now then, it's no secret that PSN users want the option that Xbox players have relished since the fossil age. Furthermore, it is very, very difficult to imagine a user on the other side of this survey saying "No, I don't want the nice option change my user ID." Therefore, we have to imagine that PlayStation has something in the works. But prove me wrong. Comment down below, PSN users.
Happy gaming.